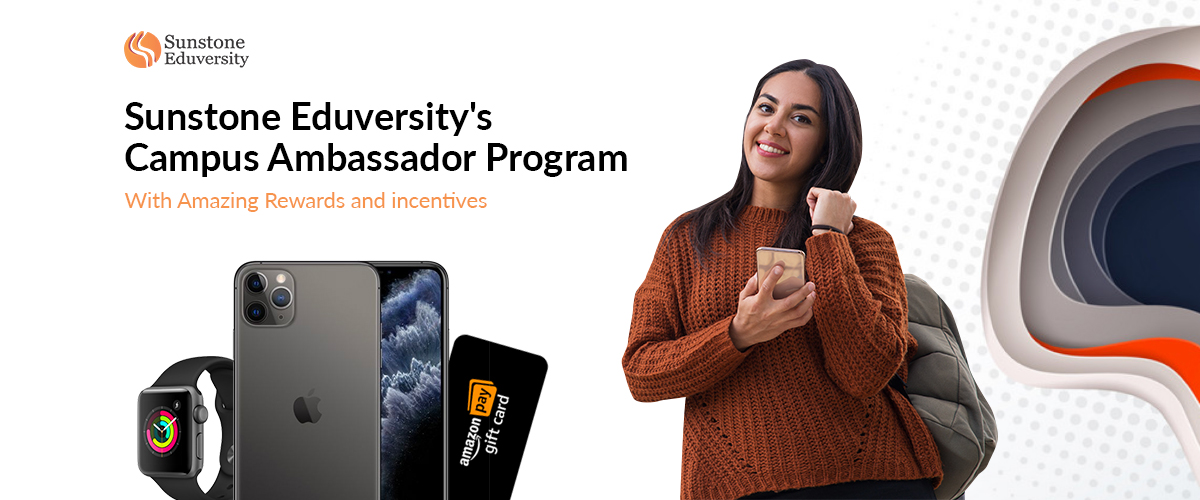 Are you always buzzing with energy and driven by ambition? Are you one of those who is always at the frontline, be it any activity, fest or an event on the campus? 
You've come to the right place.
We are looking for you!
Sunstone Campus Ambassador (SECA) is the point of contact between a company or institute and a university or college. They serve as a voice for the campus and an intermediatory for the company. 
What Is The SECA Program?
As Sunstone Campus Ambassador, You Will Be Responsible For- 
A Campus Ambassador's Day-to-day responsibilities will include:
As a Campus Ambassador, you will be our primary point of contact between Sunstone and your college. You will be responsible for creating awareness and spread the promotional activities of Sunstone, both online and offline
Getting the final year students from your college and nearby colleges to register for Sunstone Admission Test (S.E.A.T.)
Working on live marketing projects and activities for Sunstone
The Skills you Will Develop As a campus Ambassador
1. Get access to information from the entrepreneurial world and business leaders in technology, business, and design domains
2. Develop your leadership skills by networking with different kinds of people, influencing them and taking ownership of building a community of people with an entrepreneurial mindset
3. Improve your social media marketing skills and learn how to promote an event
Who Can Apply?
Eligibility:
1. Must be in the final year or pre-final year of their UG program (such as BBA/B.COM/B.Sc/B.Tech/BA etc.)
2. Social chameleon- You are able to walk in other people's shoes, and understand instinctively what makes them tick. This awareness enables you to adapt your communication, presentation, and professional style according to the specific needs of your audience and scene
3. Gifted communicator- Your excellent written, verbal, and presentation skills, backed up by MS Office proficiency (particularly Excel and PowerPoint) are essential selling and negotiating tools
4. Values- We value focus, professionalism, responsibility, and passion
Incentives For You To Join
An exciting opportunity for you to win prizes worth INR 5 Lacs.
Prizes like iPhone 11 Pro, Macbook Air, Virat Kohli signed cricket bat, Laptops up for grabs.
You will also get a certificate of internship and other goodies!
LOR for extraordinary work from one of the fastest-growing Ed-tech company.
Kindly save our contact information (+91 9560309794) as Sunstone Campus, to find the rewards catalogue for you to go through. You might find something you have been craving for!

We welcome you to Sunstone Campus Ambassador program
Perks of being a campus ambassador
Certificates
Letter of recommendation
Flexible work hours
Opportunity to earn a stipend
Rewards and incentives in the form of points and goodies
Conclusion
There is no other right time like NOW to start a new adventure. Even though some people might tell you that you are too young, it is never the case. Our campus ambassador program will give you benefits and rewards that will help you in the long run. So without further investing any time, enrol into our campus ambassador program and kickstart your career journey today! 
About Sunstone
At Sunstone, industry-oriented MBA and PGDM programs prepare the students for the ever-evolving business world. Furthermore, the curriculum focuses on imparting relevant knowledge of business concepts and principles which are genuinely put to use in the real world. Sunstone has tech-led pedagogy, faculty who have corporate experience and a student-centric approach that transforms the students' career and focuses on their holistic development.
Moreover, the fee structure of the management programs and the sense of accountability they take for their student's careers make Sunstone unique. It takes complete responsibility of their student's success and job placement. To date, it has had 100% placement for all its batches with students placed in good companies like Amazon, Byte Dance (TikTok), Reliance Jio, Flipkart, etc.
Upskill yourself with industry-aligned management programs, tech-led pedagogy and economical fee payment plans – Apply Now
Sunstone Fee Structure
They have two fee plans which are as follow:
Pay After Placement – Students pay a nominal fee at the time of admission, and only after getting a job on the completion of the course, they pay the full course fees.
Money-Back Guarantee – Students pay a fixed amount of fee at the time of admission and get a refund of tuition fees in case not placed.
For more details on Sunstone's Fee Structure – Click Here