5800 students unlocked their dream jobs with UG/PG programs in top colleges. Apply Now!
Computer Science Engineering has always been in demand since it establishes a strong foundation for developing specialised skills in the field. There are many institutes offering computer science engineering courses in India. Today, we will talk about the different types of courses available in CS Engineering, the subjects you can opt for, the syllabus, eligibility, and fees.
What is Computer Science Engineering?
A Computer Science Engineering course is a four-year degree program that offers a fundamental understanding of computation theory and how to design computational systems. The course teaches you how to design, implement, and manage information systems for hardware and software processes.
You can opt for a Computer Science Engineering course at the undergraduate or postgraduate level by opting for a BTech Computer Science course at the undergraduate level or an MTech in Computer Science at the PG level. Along with the MTech or BTech course, you can acquire skill sets like database management, programming, etc. to get a job in the field that interests you.

Is Computer Science Engineering hard?
Studying computer science engineering requires persistent attempts at solving a single problem until you achieve success. It also requires a technical and logical mindset and prepares students to meet stringent deadlines and deliver complex tasks while working from different angles. Computer science is a never-ending learning process as you must keep upgrading with evolving technology.
Important information about Computer Science Engineering
Name of the course

BE, MTech, or BTech in Computer Science Engineering

Duration of the course

BE/ BTech: 4 years

MTech: 2 years

Entrance Exam

Yes. JEE Main, JEE Advanced, GATE, BITSAT, and VITEEE.

Course fees

₹2 lakhs to ₹6 lakhs

Computer Science Engineering scope and salary

Career options: Computer Systems Engineer, Hardware Engineer, Software Developer, Web Developer, etc.

Average Salary: ₹40-50K per month

Similar specialisations

Electrical and Communications Engineering

Information Technology

Information and Communication Technology

Electronics Engineering

Software Engineering

Artificial Intelligence
Eligibility for B.E./B.Tech in Computer Science Engineering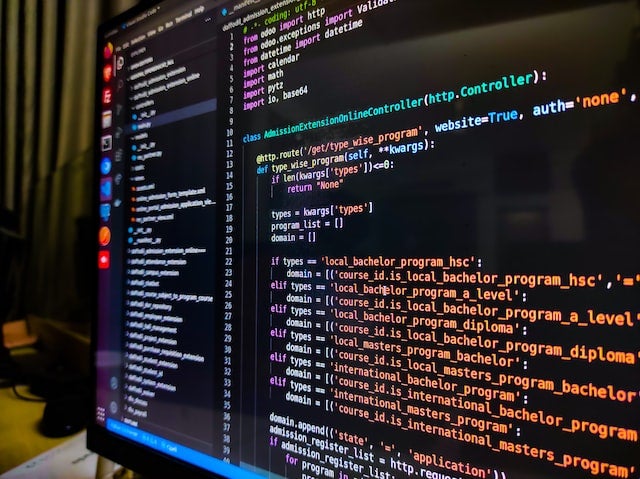 Before you apply for the B.E. or B. Tech degree, make sure you fulfil the computer science engineering eligibility criteria.
The eligibility criteria for BE or BTech in Computer Science can differ for different universities. While some universities will allow you to seek admission based on your Class 12 scores, others might require you to clear an entrance exam and adhere to a screening process. Here are some common eligibility criteria for BE and BTech courses:
Completed Class 12 with a minimum of 50% marks with Physics, Mathematics, and Chemistry as compulsory subjects. IITs, NITs, and GFTIs usually require candidates to have secured a minimum of 75% marks.

If the university has an entrance exam requirement, you must clear it with the required marks

Participate in the counselling program for admission to various courses in computer science
Top entrance exams for UG Computer Science Engineering programs
While there are many entrance exams for undergraduate computer science courses, here are some of the top ones:
JEE Main

: A national-level exam for admission to computer science programs across the country.

JEE Advanced

: Another national-level entrance exam for admission to computer science courses in top government colleges in India like IITs.

SRMJEE

: This is also a national-level annual entrance exam for admission to various BTech programs at SRM Institute of Science and Technology

BITSAT

: This is a computer-based online test for admission to various undergraduate programs at BITS Pilani campuses in India
Eligibility for PG in Computer Science Engineering
The eligibility criteria for a postgraduate course in Computer Science can be different for different universities, specialisations, academic backgrounds, and prior experiences. Here are some common eligibility criteria for PG courses in Computer Science Engineering:
Successfully completed a bachelor's degree in computer science or any other accepted undergraduate degree.

Clear the entrance exam with the required marks.

If the university is looking for prior work experience, ensure you have it covered. This is usually required for candidates who do not have a graduate degree in computer science.
Generally, aspirants for a master's degree in computer science engineering need to clear the Graduate Aptitude Test in Engineering or GATE. It is the most popular postgraduate engineering entrance exam in India, conducted for admission to one of the IITs, NITs, or GFTIs. Other institutes also value the GATE scores.
Scope of Computer Science Engineering
Computer Science is a broad field covering many aspects. Hence, students have an opportunity to specialise in the field that interests them and suits their aptitude to carve a career path accordingly. You can find jobs in telecommunication, IT, multimedia, app development, gaming, web development, UX and UI designing, etc.
Computer Science Engineering Fees
Courses

Minimum Fees

Maximum Fees

Private

Government

Private

Government

UG

₹21.88 K

₹6.00 K

₹24.00 Lakhs

₹22.40 Lakhs

PG

₹16.00 K

₹706

₹13.89 Lakhs

₹9.00 Lakhs

DOCTORAL

₹26.00 K

₹15.00 K

₹15.98 Lakhs

₹3.84 Lakhs

DIPLOMA

₹6.75 K

₹2.40 K

₹3.64 Lakhs

₹3.00 Lakhs
Computer Science Engineering Syllabus and Subjects
The undergraduate four-year B.E./B. Tech in Computer Science Engineering is divided into eight semesters. Students are required to get a minimum credit score to finish the course. In the fourth year, they need to complete a project. There are some core subjects and some electives that can be chosen based on their interests.
Computer Science Engineering Subjects
There are two types of CS Engineering subjects – core and elective. Here is a glimpse into the CSE course details and subjects:
Semester 1
Communication skill

Computational Mathematics –I

Digital logic

Systems programming
Semester 2
Computational Mathematics –II

Computer Organization

Microprocessor & Microcontroller

Operating Systems
Semester 3
Compiler design

Computer architecture

Database management systems

Design & analysis of algorithms
Semester 4
Computer networks

Object-oriented system

Optimization techniques

Software engineering -I
Semester 5
Business process logic

Soft computing

VLSI technology
Semester 6
Digital signal processing

Industrial management
Semester 7
Elective - I

Internet technology

Multimedia technology

Practicals
Semester 8
Artificial intelligence

Economics

Elective – II

Practicals
Popular Computer Science Engineering Colleges
While there are many institutions offering computer science engineering courses, here is a quick look at the top colleges:
BML Munjal University, Gurgaon

Chandigarh University

GD Goenka University, Gurgaon

GNA University, Phagwara

Jain University, Bangalore

KL University Guntur

LPU Jalandhar

NIIT University, Neemrana

SRM University Chennai

UPES Dehradun
To Wrap Up
A Computer Science Engineering course sets your career on track from a very young age. By the end of the course, you can either opt for higher education or take a job. While the average salary for BTech in India can range between ₹3 lakhs and ₹6 lakhs, you can get a higher offer provided you acquire the right skills.
About Sunstone
Sunstone is a leading higher education services provider that works with academic institutions in upskilling students for employability. Sunstone offers career-oriented training interventions for undergraduate and postgraduate students at 50+ institutions across 30+ cities.
Sunstone's training programs are industry endorsed to enhance employability. These programs are designed for hybrid delivery with an unparalleled focus on soft skills and personality development to provide students with a holistic educational experience.
HELP
Take the first step towards your dream job.