5800 students unlocked their dream jobs with UG/PG programs in top colleges. Apply Now!
IIM Admission 2023
IIM (Indian Institute of Management) is a group of 20 public, autonomous management education and research institutes in India. IIMs are regarded as the most prestigious business schools in India and are known for their supremely high-quality education, faculty, and alumni network. IIM's MBA programs are regarded as the best in the industry.
The Indian Institute of Management is revered for certain factors — the education and faculty are a few of them. The factor that helped forge the IIM brand name is the IIM placement. Students who completed their Master of Business Administration from IIMs have received very good placements with competitive salary packages.
With all that said, IIMs have retained their exclusivity because getting MBA admission to IIM is not easy. You will have to clear the national-level entrance exam and undergo a few rounds of screening to finalise your seat in any of the IIMs.
Keep reading this space if you want to know more about the IIM admission process for MBA.
List of All IIMs
IIM Ahmedabad - Ahmedabad, Gujarat

IIM Bangalore - Bangalore, Karnataka

IIM Calcutta - Kolkata, West Bengal

IIM Lucknow - Lucknow, Uttar Pradesh

IIM Kozhikode - Kozhikode, Kerala

IIM Indore - Indore, Madhya Pradesh

IIM Shillong - Shillong, Meghalaya

IIM Rohtak - Rohtak, Haryana

IIM Ranchi - Ranchi, Jharkhand

IIM Trichy - Tiruchirappalli, Tamil Nadu

IIM Raipur - Raipur, Chhattisgarh

IIM Kashipur - Kashipur, Uttarakhand

IIM Udaipur - Udaipur, Rajasthan

IIM Amritsar - Amritsar, Punjab

IIM Bodh Gaya - Bodh Gaya, Bihar

IIM Sambalpur - Sambalpur, Odisha

IIM Sirmaur - Sirmaur, Himachal Pradesh

IIM Nagpur - Nagpur, Maharashtra

IIM Visakhapatnam - Visakhapatnam, Andhra Pradesh

IIM Jammu - Jammu, Jammu, and Kashmir
Each of these locations have the best academic, residential, medical and other facilities to empower students with the best. From state-of-the-art classrooms, computer labs, and libraries that are equipped with the latest books, journals, and other resources to support the academic needs of the students to sports facilities such as playgrounds, gymnasiums, and swimming pools to promote physical fitness among students, every aspect is well planned and taken care of.
Eligibility for Admission into IIMs
To be eligible for an MBA program at the Indian Institutes of Management (IIMs), you typically need to meet the following criteria -
You must have a bachelor's degree in any discipline from a recognized university, with a minimum of 50% aggregate marks or equivalent CGPA. Some IIMs also require a certain number of years of work experience.

You will need to take a management aptitude test such as the CAT (Common Admission Test) and perform well in order to be considered for admission.

As a general rule, candidates who have completed their undergraduate education in professional disciplines like Engineering, Medicine, Law, Chartered Accountancy, Cost Accountancy, etc., are eligible to apply for the MBA program.
Note: The eligibility criteria may vary slightly between different IIMs, so it's a good idea to check the specific requirements for the IIM you're interested in. Additionally, some IIMs may have additional selection criteria, such as group discussions and personal interviews. Also, keep in mind that the MBA program's eligibility criteria are constantly changing, so it's always a good idea to check the most recent information on the IIM website where you're applying.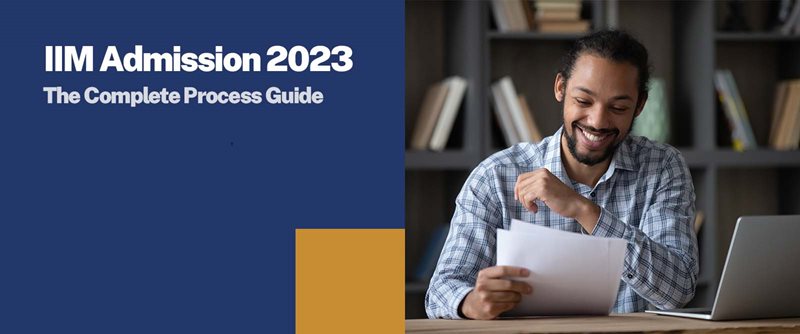 IIM MBA Admission Criteria: Entrance Exams
The most common exam required for admission to IIMs is the Common Admission Test (CAT). CAT is a national-level management entrance examination conducted annually by the Indian Institutes of Management (IIMs) for admission to their postgraduate management programs. CAT score is accepted by all the 20 IIMs and many other top B-schools across India.
Other exams that may be accepted by some IIMs for admission to their programs include:
Xavier Aptitude Test (XAT) conducted by XLRI Jamshedpur

Graduate Management Aptitude Test (GMAT)

National Management Aptitude Test (NMAT) conducted by GMAC

Common Management Admission Test (CMAT) conducted by AICTE
The Screening Process
After a student attempts the CAT and applies to the IIM of choice, candidates must pass through 3 stages.
Stage 1: Shortlisting of candidates on the basis of the CAT score
Based on the CAT score, candidates are shortlisted for WAT/GD-PI round. Candidates who meet the shortlist cut-off and IIM admission criteria 2023 are required to log in through the CAT IDs to submit their name and CAT score.
Stage 2: Screening of candidates for WAT/GD-PI
The second stage is all about getting the candidates shortlisted according to their CAT score and academic record for WAT/GD/PI. Candidates who are shortlisted in all rounds will be called for a counselling process which may be held online.
Stage 3: Calculation of Composite Score and Final Selection
The third stage is all about calculating the composite score of each candidate on the basis of assorted parameters to finalise the selection. The final selection process includes an assessment of the candidate and calculating the composite score.
Once a candidate passes all three stages, they will be deemed eligible to take up the MBA course at IIM.
IIM Placements
Indian Institutes of Management (IIMs) are known for their strong reputation and high-quality education, often leading to strong placement opportunities for their graduates. The placement process at IIMs typically includes on-campus interviews and pre-placement offers (PPOs).
IIMs have a good track record of providing their students with high-paying jobs in top companies across various sectors such as consulting, finance, marketing, operations, and more. The average salary offered to IIM graduates is generally among the highest in the country, with many students receiving job offers with a salary of more than ₹20 Lakhs per annum.
The placement process usually starts in the month of October and continues till the end of the year. The process begins with companies' pre-placement talks (PPT), followed by the final placement process. The process usually concludes by the end of December or early January.
Following are the IIMs that offered the highest international packages.
| | |
| --- | --- |
| Name of the IIM | Highest International CTC |
| IIM Ahmedabad | ₹1.32 CPA |
| IIM Indore | ₹89.25 LPA |
| IIM Lucknow | ₹61.59 LPA |
| IIM Kashipur | ₹48.50 LPA |
| IIM Udaipur | ₹33.00 LPA |
| IIM Ranchi | ₹59.36 LPA |
| IIM Sambalpur | ₹58.00 LPA |
Advantages of Choosing IIM
Career Opportunities:

Graduates from IIM have access to high-paying and prestigious jobs in top companies across various sectors such as consulting, finance, marketing, operations, and more. The IIM brand name carries a lot of weight and often opens doors to opportunities that may not be available to other graduates.

Personal and Professional Growth:

The rigorous academic curriculum and the diverse student body at IIMs can provide students with an environment that encourages personal and professional growth. Exposure to different cultures and ways of thinking can broaden one's perspective and help develop leadership skills.

Networking:

IIMs have a large and accomplished alumni network. The connections made during the program and after graduation can be valuable for both personal and professional growth.

Financial stability:

IIMs generally have a very high placement rate, and most graduates of IIMs secure jobs with a high salary package, which can lead to financial stability.

Branding:

Being an IIM alumnus can open doors and provide access to opportunities that may not be available to other graduates. The IIM brand is well-known and respected across the country and internationally.
Conclusion
IIMs are the premier business schools in India because they offer a great learning experience. However, there is always something extra that you can learn and stay ahead of your peers. For such opportunities, sign up with Sunstone. With Sunstone, you can get access to advanced career tracks designed by industry experts keeping the current industry trend and requirements.
FAQ -
IIM Admission
Are 12th marks important for IIM?
12th marks are not considered eligibility criteria for getting admission to the Indian Institute of Management (IIM). IIMs usually consider the marks obtained in the Bachelor's degree and the performance in the management entrance exams such as CAT, XAT, or GMAT. However, having stellar 12th marks do help.
HELP
Take the first step towards your dream job.