5800 students unlocked their dream jobs with UG/PG programs in top colleges. Apply Now!
My two internships were with two distinct companies VCTI and SKOLAR. It was a work-from-home internship. Handling US clients was my primary duty and responsibility. It was a paid internship with a stipend of Rupees 20,000 per month, which kept me truly spurred.
SOLAR Edutech Private Limited provided my second internship. In this position, I was an HR Generalist. My essential roles and responsibilities included managing the recruitment cycle. I was paid a stipend of rupees 15,000 each month.
I am sharing a few tips & suggestions for you guys to prepare for your internship:
Active listening: Pay close attention to your coach. Active listening skills are critical for every professional. It aids in your development

Communication Ability: If a person has good communication abilities, they will have a ton of chances to progress.

Maintain Professionalism: Respect the opinions of individuals as well as co workers.
Dress to dazzle: Dress is required to be formal, with a clean shaved or groomed beard and brushed hair.
Practice: Before the interview, conduct thorough research on the organization and read through the job description.
Knowledge of Excel and PowerPoint is additionally required.
My learnings and experience:
The internship helped me develop my communication and interpersonal abilities.

It expanded my knowledge and technical skills by providing me with hands-on experience.

Internships also educate me on how to conduct myself within an organization.
I became a team player. Internships teach you to trust your teammates and respect their opinion.
How did I prepare myself before the interview?
Our trainer, Mr. Xavier Stalin, had intensively instructed us over a month ago by utilizing real experiences on how to present yourself and perform in an interview. Following his advice, the night before the interview, I practiced with potential interview questions and got a good night's sleep. I used to conduct mirror practice of self-introduction and essential questions, which helped me gain confidence.
Before going to the interview, I thoroughly read the job description, which greatly aided my understanding of the job role and the company's requirements.
The first round of my internship at VCTI was an aptitude test. The second stage was HR, which was conducted over the phone and consisted of basic questions. It will be really beneficial if one attends the classes on a regular basis.
The third step was a video interview, in which I wore formals and conducted a number of mock interviews, which was quite beneficial and helped me feel secure throughout the interview.
I got rewarded as the employee of the January month at SKOLAR.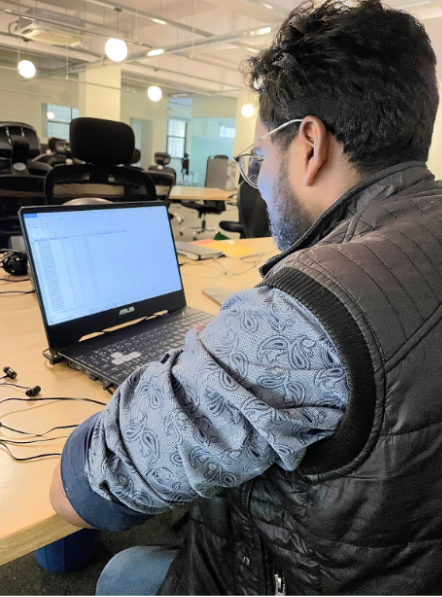 Written by:
Gourab Mukherjee, PISM
HELP
Take the first step towards your dream job.