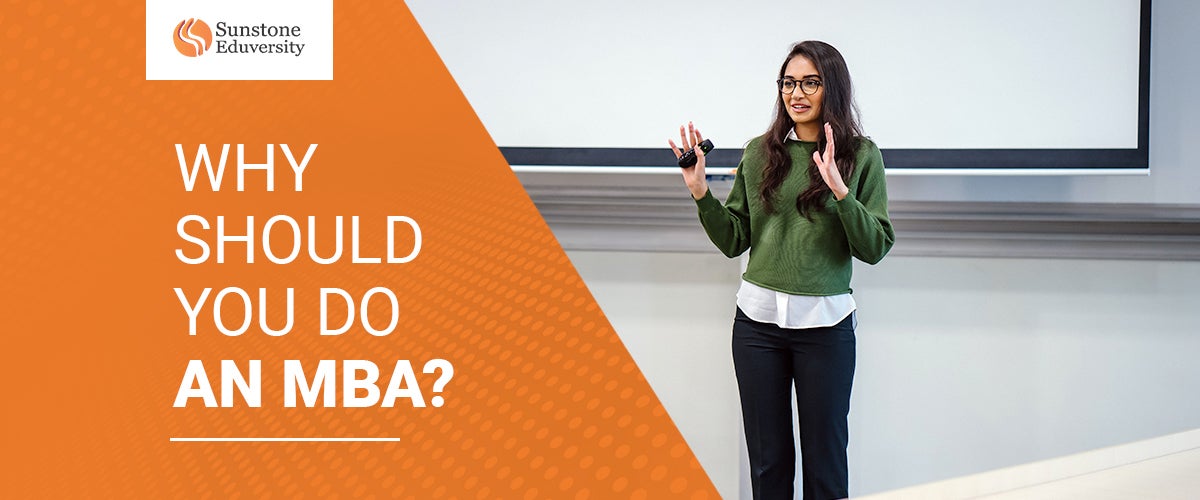 While the world is stepping up its game during these treacherous times, we decided to answer the golden questions 'What is an MBA for and Why should I do an MBA?'. Well, for starters, its because you want to, right? If not, money is a good aphrodisiac, both mentally and educationally. Educationally, MBA students go through a distinct learning phase where they are taught philosophical needs coupled with different management styles. An MBA might seem like that golden ticket by Willy-Wonka but it comes with a huge amount of learning and very less amount of chocolates.
There are hundreds of reasons what an MBA is for, but you should also have a deep understanding of what an MBA is. MBA stands for Masters in Business Administration and a degree in MBA can offer you multiple job opportunities.
Top Reasons to Pursue an MBA
Streamlined Career Graph
There are very few aspects of pursuing masters but with MBA things are different as it provides a better management style both personally and professionally. MBA students go through a stringent syllabus which enables them to create an environment of discipline and accurate learning. Apart from discipline, an MBA graduate also takes up the practicality of the current market scenario unlike most of the courses. This, in turn, helps them build a career graph unlike others meanwhile streamlining the graph too. This also helps the sole purpose of entering into a management career and putting it into overdrive.
An MBA For better Personal Growth
For a better approach towards life, one needs to be acclimated with strong boned souls. This, in turn, is also why you should pursue an MBA, though do not mistake this for some sort of dating platform. MBA is a professional course and this is why many business schools encourage their students to take part in various internships and seminars, broadening their horizons.
An MBA For Higher Salary
"Get a good job with good pay and you're okay". Roger Waters is a sarcastic guy but let's be honest, money makes life a little bit easier, and that's one reason that the MBA is for. One of the benefits of pursuing an MBA is that you get to earn money comparatively more than other postgraduates. This, in turn, is a reason why you should pursue an MBA as it keeps you ahead in the race and keeps you and your wishes fulfilled. Because in the end, everything boils down to everything you earn. Even though money is good for a better standard of living, Another reason an MBA is for is to teach you how to utilize your management skills. These days even MBBS graduates are pursuing MBA just so that they can also learn the craft of being good managers coupled with better-paying jobs.
An MBA For The Entrepreneurial spirit
Yes, going through an MBA degree is hard but at the same time, the skills imparted to an MBA student are diverse. These diverse skill sets are necessary to build a business from scratch. The startup culture embraces these minds as they carry the genome to build a business model from scratch. Many successful startups were started by MBA graduates and these models were amongst the 10% of the viable models still in shape to generate revenues. So, if you look at it deeply enough, you'd see how these skills possessed by an MBA graduate came in handy inside the startup ecosystem.