5800 students unlocked their dream jobs with UG/PG programs in top colleges. Apply Now!
Jaipur is the capital and the largest city of the Indian state of Rajasthan. It's also known as the Pink City, due to the colour of its buildings. Jaipur is one of UNESCO's World Heritage sites. The city is also home to the Amber Fort and Jantar Mantar, which are extremely popular with tourists. Apart from being popular with tourists, Jaipur is also a very attractive location for MBA students due to it's proximity to Delhi NCR and it's affordable MBA colleges.
MBA colleges operating out of Jaipur offer specializations in Finance, Marketing, Human Resources, Business Analytics, Operations, Logistics, and Supply, etc. MBA colleges in Jaipur provide the best MBA courses with excellent career opportunities. UGC approved MBA and AICTE approved PGDM colleges in Jaipur offer the best education to students wishing to become future industry leaders.
MBA Colleges in Jaipur Accepting CAT
On the basis of the CAT exam, top MBA colleges in Jaipur shortlist and offer admission to their flagship MBA/PGDM programmes.
| | |
| --- | --- |
| S.No. | College Name |
| 1. | Indian Institute of Management |
| 2. | Birla Institute of Technology and Science (BITS) |
| 3. | Jaipuria Institute of Management |
| 4. | Mody University- School of Business |
| 5. | Sir Padampat Singhania University |
MBA Colleges in Jaipur accepting MAT and CMAT
Jaipuria Institute of Management Jaipur, Mody University, IIHMR University Jaipur, and JIMS Jaipur are among the top MBA colleges in Jaipur that accept the MAT and CMAT. Don't worry if you don't have a high CAT or XAT score; these MBA colleges in Jaipur accept CMAT and MAT, and other exam scores. You have a good chance if your CMAT or MAT score is in the 60 to 80 percentile.
| | |
| --- | --- |
| S.No. | College Name |
| 1. | Faculty of Management Studies-IRM |
| 2. | Jagan Institute of Management Studies |
| 3. | IIHMR University |
| 4. | TAPMI School of Business |
| 5. | Sir Padampat Singhania University |
MBA colleges in Jaipur with Own Exam and Direct Admission
Many top MBA colleges in Jaipur use national level MBA entrance exams to select students, and other private colleges/universities provide self-entrance exams for those interested in enrolling. The individual who didn't get admission to institutions for a specific course through entrance exams or examination results, seats at top private MBA colleges/universities in Jaipur are reserved for direct admittance through management quota seats, and students must meet the government's qualifying standards.
| | |
| --- | --- |
| S.No. | College Name |
| 1. | Jaipur National University |
| 2. | Taxila Business School |
| 3. | NIMT Institute of Management |
| 4. | Vivekananda Global University |
| 5. | The ICFAI University |
Jaipur MBA Colleges with High Placement
Over the years, MBA colleges in Jaipur have had good placement results. The expanding placement and entrepreneurship chances in Jaipur also provide better employment opportunities for MBA graduates from Jaipur's MBA institutes. Let's take a peek at recent placement statistics in some of Jaipur's best MBA schools:
| | |
| --- | --- |
| College Name | Average Package |
| Indian Institute of Management | 13.16LPA |
| Jaipuria Institute of Management | 6.73LPA |
| Mody University- School of Business | 5LPA |
| TAPMI School of Business | 6.90LPA |
| ICFAI Business School | 5.49LPA |
MBA Specializations To Go For in Jaipur
MBA in Marketing - It focuses on imparting knowledge and skills to students to match consumer needs with a company's marketing strategies.
MBA in Finance - It focuses on planning and controlling the financial assets of a company.
MBA in Human Resource Management - It imparts skills and knowledge to manage the human resources of the company. The course comprises recruiting, training, and team building. You will also be taught superior communication skills that are necessary to operate in a company.
MBA in Business Analytics - Teaches students how to strategize business based on data. Students learn the processing of data to solve problems and make strategies.
MBA in Operations - This teaches students to manage efficiently the production and distribution of goods and services produced by the organization.
MBA in Logistics and Supply Chain Management - This field deals with controlling the flow and storage of goods and services from the production to the consumer.
MBA in Sales- Students learn how to grow sales of a product or service over time and attract more customers.
MBA in Retail management- Retail management is the art of attracting and bringing customers into stores and fulfilling their needs. This specialisation will teach students how to streamline retail operations.
MBA in BFSI- This degree teaches students how to plan, control and manage financial resources in an organisation.
MBA in Digital Marketing- It focuses primarily on promoting products and service through online platforms.
Eligibility for MBA Colleges in Jaipur
The eligibility criteria for MBA/PGDM colleges in Jaipur depends on individual colleges and we advise you to check the eligibility on the websites or brochures of the respective colleges. Any graduate from any field background can go for MBA admission in Jaipur to have a lucrative industry career. However, the basic eligibility criteria for MBA colleges in Jaipur are as follows:
You need to have a minimum of 50% marks for general category students and 45% for students from the ST/SC category in your graduation from any discipline, from a recognized university.
Final year students can also apply for MBA programs in Jaipur, however, the admission will be on a provisional basis till the final graduation score is revealed.
Students are also required to appear for any national-level management exam, one has to go through various tests like CAT/MAT/CMAT/XAT/ATMA. MBA colleges in Jaipur also have their own test structure and eligibility criteria.
Selection Process for MBA Admissions in Jaipur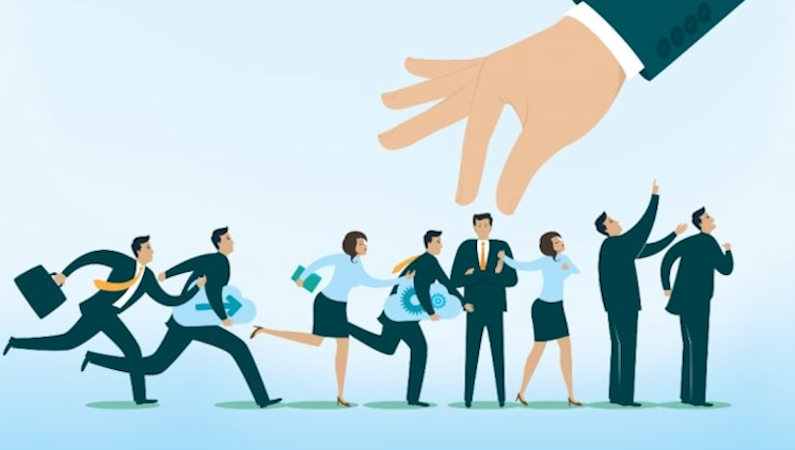 To get into the top B-schools in Jaipur, one has to follow a few simple steps. Mostly all B-schools in the country accept an online application, and the process is straightforward and hassle-free.
Firstly, candidates wishing to get admitted into B-schools have to register and apply for various exams like CAT/MAT/IIFT/NMAT. National level entrance tests have a limited time frame to apply, whereas other institutions have their admission tests application process.
Secondly, you have to appear for the relevant entrance test. After the result has been declared, B-schools shortlist candidates according to their cutoff. After that, candidates are invited to the next step in which their exam score, academic background, and working experience are taken into account.
The final step contains group discussion, written ability test, and personal interview. Based on the above tests, the final merit list is declared and selected candidates have to pay the fees and submit documents. Some B-schools also offer direct admission to applicants; you have to apply on the college website and wait for communication from the institution. Usually, these admissions are based on merit/group discussion/personal interview.
There are a lot of management institutes offering MBA courses in Jaipur. Students can choose from various MBA colleges in Jaipur according to the specialization offered and the fee structure. The fee structure of various colleges in Jaipur depends on various factors.
Career Scope After MBA in Jaipur
The Indian industry for a long time has suffered due to the absence of the right skill set in management professionals, but the scenario has changed in the last few years. The industry is hiring professionals holding MBA degrees even from low fee MBA colleges to assume leadership positions. However, your MBA journey doesn't have to end there, you can go for further education in the field of your choice.
Study Scope After MBA
CFA (Chartered Financial Analyst)
A chartered financial analyst (CFA) is a globally-recognized professional designation given by the CFA Institute, (formerly the AIMR (Association for Investment Management and Research)), that measures and certifies the competence and integrity of financial analysts. Candidates are required to pass three levels of exams covering areas, such as accounting, economics, ethics, money management, and security analysis.
Financial Risk Manager
Financial Risk Manager (FRM) is a professional designation issued by the Global Association of Risk Professionals (GARP). The GARP FRM accreditation is globally recognized as the premier certification for financial risk professionals dealing in financial markets. FRMs possess specialized knowledge in assessing risk and typically work for major banks, insurance companies, accounting firms, regulatory agencies, and asset management firms.
Certified Information Systems Auditor
Certified Information Systems Auditor (CISA) refers to a designation issued by the Information Systems Audit and Control Association (ISACA). The designation is the global standard for professionals who have a career in information systems, in particular, auditing, control, and security. CISA holders demonstrate to employers that they have the knowledge, technical skills, and proficiency to meet the dynamic challenges facing modern organizations.
Certification in Risk Management Assurance
The Certification in Risk Management Assurance (CRMA) is one of the latest certifications offered by the IIA, or the Institute of Internal Auditors. The CRMA certificate was introduced in 2013.As the name suggests, the certification covers the skills required for a professional to educate and counsel management and audit committees on risk management concepts. In short, the focus is on "risk" and "risk management."
Project Management Professional
Project Management Professionals are imperative in every industry. The demand is in terms of the skill requirements which vary between different industries and geographies. As per 2014 survey report by PMI, there will be huge opportunities for practitioners of Project Management. As companies recruit people from various cultural backgrounds, the need for project managers with a standardized set of skills increases. These project managers would be expected to undertake projects on system reorganizations, turn strategic vision into tangible goals, and ensure effective and agreed outcomes, while balancing various project constraints.
Job Profile After MBA in Jaipur
Marketing Manager: You can be a marketing manager and look over business involving selling products and providing services. Your job will be to manage the marketing department and responsible for product marketing and services to increase sales.
HR Manager: The HR department is essential for the organization's effective functioning, as HR managers are responsible for the hiring of suitable candidates.
Sales Manager: Sales Manager is responsible for employee motivation and Management to increase direct sales.
Investment Banker: After doing MBA in banking and finance, you can get jobs in banks, insurance companies, security firms, financial institutions, etc. Your task will be to raise capital for the company by using data and analyzing significant investment decisions. Investment bankers are also responsible for mergers and acquisitions of new assets or firms.
Management Consultant: If you are good at solving problems, this is a brilliant opportunity in the consulting branch of Management. Your responsibility will be to solve Organizational issues and include new ideas for an organization's effective functioning.
Data Analytics: Businesses are becoming digitized at a breakneck pace with the advent of e-commerce retail and banking. To supplement the need for professionals in this new field, many B-schools are offering MBA in data analytics.
Cost of Living as an MBA student in Jaipur
The living cost depends on the residence location. Singles can opt for paying guest or co-living apartments that are equipped with all facilities and amenities. Accommodation costs range between 4000 to 15,000 rupees, depending on the location and comfort offered. There is also a security cost that has to be deposited at the time of renting. Other miscellaneous costs include housekeeping, Flat maintenance cost, Wi-Fi, electricity, etc. amounting to around 3000 rupees. If you can stay a little away from the main town, you can cut your living cost.

Jaipur is well connected with affordable public transport. You can travel in the metro, local buses, autos and cabs at very reasonable prices.
Top MBA Colleges by Location
FAQs about MBA in Jaipur
What is the scope of an MBA?
One can directly enter the business world after an MBA or can pursue a postgraduate degree. Like other fields, one needs to choose a focus area and go deeper into developing a knowledge base in that niche.
What is the lowest average MBA fee of the colleges in Jaipur?
An MBA from a top institute can cost you anywhere between 10-20 Lacs, keeping in mind other expenses. However, the colleges listed above are B schools in Jaipur offering students pocket-friendly fee payment options.
HELP
Take the first step towards your dream job.